Updated 5 December:
Setlists added

Updated 27 November:
Covers added and some tracks confirmed
Updated 23 September:
Kimishika has been added to tracklist
Updated 17 September:
Release date confirmed.
Covers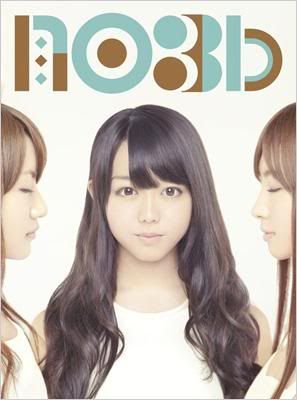 Top L-R: Version A, B, C
Bottom L-R: Limited CD+DVD, Regular CD-only edition
The title of the album is "
No Sleeves
". No surprise there. Their first 4 singles' title tracks
Relax!
,
Tane
,
Kiss no Ryuusei
and
Lie
will be on the album, as well as remix versions of
no3b
's
Mendol
drama songs
Christmas Present
and
3seconds
.
There will also be a surprise inclusion of Team A stage songs
Junai no Crescendo
and
Bye Bye Bye
on the album. These are stage songs that the 3 of them did together, so unlike the
French Kiss
single's coupling songs,
no3b
is the exact original singers here.
no3b will also have their own version of
Heart Gata Virus
.
No Sleeves 1st Album
Release date: 2011/01/01
Versions:
¥3,059 - Regular CD
¥3,900 - Limited CD+DVD
¥4,800 - Limited Complete Edition CD ver A, B, C
(All editions have bonus photo.)
no3b (Kojima Limited ver. A)
[CD]
01. Relax!
02. キスの流星

(Kiss no Ryuusei)


03. 3seconds Remix
04. ハート型ウイルス [no3b ver.]

(Heart-gata Virus)


05. Bye Bye Bye
06. Cloudy sky [小嶋陽菜ソロ曲]

(Haruna solo song)


07. 純愛のクレッシェンド

(Jun'ai no Crescendo)


08. クリスマスプレゼント Remix

(Christmas Present)


09. Lie
10. タネ

(Tane)


11. 嘘でしょ?~七里ガ浜の七不思議~ [ガールズ・ING]

(Uso desho? ~Shichirigahama no nanafushigi~ - Girls-ing)


[DVD]
Tracklist TBA



Comes with Self-Produced Photobook A + Misanga with charm A + 4 Trading Cards (Kojima ver)

no3b (Takahashi Limited ver. B)
[CD]
01. Relax!
02. キスの流星

(Kiss no Ryuusei)


03. 3seconds Remix
04. ハート型ウイルス [no3b ver.]

(Heart-gata Virus)


05. Bye Bye Bye
06. 奇跡は夜生まれる [高橋みなみソロ曲]

(Kiseki wa yoru umareru - Takamina solo song)


07. 純愛のクレッシェンド

(Jun'ai no Crescendo)


08. クリスマスプレゼント Remix

(Christmas Present)


09. Lie
10. タネ

(Tane)


11. Next heaven [EYES]
[DVD]
Tracklist TBA



Comes with Self-Produced Photobook B + Misanga with charm B + 4 Trading Cards (Takahashi ver)



no3b (Minegishi Limited Ver. C)
[CD]
01. Relax!
02. キスの流星

(Kiss no Ryuusei)


03. 3seconds Remix
04. ハート型ウイルス [no3b ver.]

(Heart-gata Virus)


05. Bye Bye Bye
06. 私は私 [峯岸みなみソロ曲]

(Watashi wa watashi - Miichan solo song)


07. 純愛のクレッシェンド

(Jun'ai no Crescendo)


08. クリスマスプレゼント Remix

(Christmas Present)


09. Lie
10. タネ

(Tane)


11. 尺が欲しい [恋愛運上昇団]

(Shaku ga hoshii - Ren'ai un joushoudan)


[DVD]
Tracklist TBA



Comes with Self-Produced Photobook C + Misanga with charm C + 4 Trading Cards (Minegishi ver)

no3b (Limited CD+DVD Ver.)


[CD]


01. Relax!
02. キスの流星

(Kiss no ryuusei)


03. 3seconds Remix
04. ハート型ウイルス [no3b ver.]

(Heart-gata virus)


05. Bye Bye Bye
06. 純愛のクレッシェンド

(Jun'ai no crescendo)


07. クリスマスプレゼント Remix

(Christmas Present)


08. Lie
09. タネ

(Tane)


10. Next heaven [EYES]
11. 尺が欲しい [恋愛運上昇団]

(Shaku ga hoshii - Ren'ai un joushoudan)


12. 嘘でしょ?~七里ガ浜の七不思議~ [ガールズ・ING]

(Uso desho? ~Shichirigahama no nanafushigi~ - Girls-ing)


[DVD]
Tracklist TBA



no3b (Regular CD-only ver)
[CD]
01. Relax!
02. キスの流星

(Kiss no ryuusei)


03. 3seconds Remix
04. ハート型ウイルス [no3b ver.]

(Heart-gata virus)


05. Bye Bye Bye
06. 純愛のクレッシェンド

(Jun'ai no crescendo)


07. クリスマスプレゼント Remix

(Christmas Present)


08. Lie
09. タネ

(Tane)


10. Next heaven [EYES]
11. 尺が欲しい [恋愛運上昇団]

(Shaku ga hoshii - Ren'ai un joushoudan)


12. 嘘でしょ?~七里ガ浜の七不思議~ [ガールズ・ING]

(Uso desho? ~Shichirigahama no nanafushigi~ - Girls-ing)






Only First press comes with Handshake Ticket





Order Links
HMV
/
CDJapan
/
YesAsia
Credits: aakun, loveandcoffee