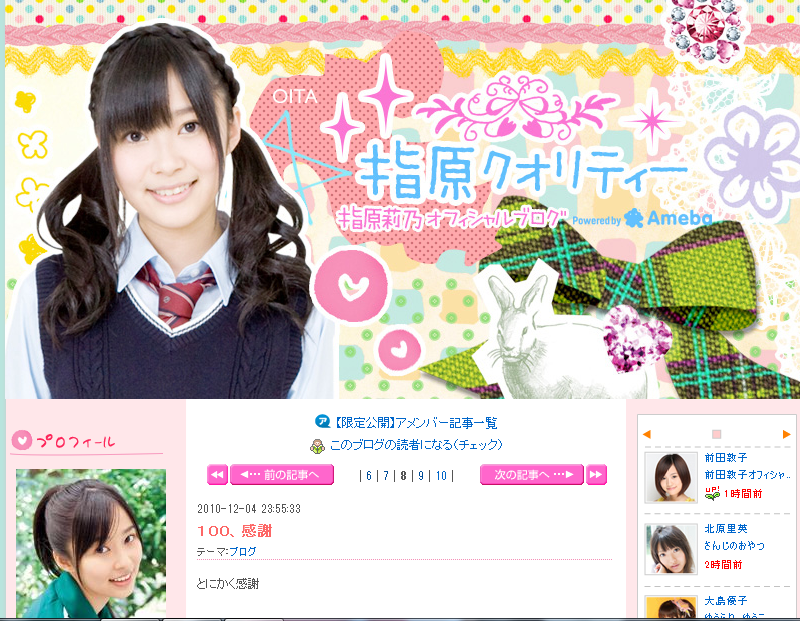 Shukan AKB
, a TV programme on
AKB48
, recently started and activated a new project. This project is known as
Sashihara Project
as the main focus of this project was the AKB48 Team A member
Sashihara Rino
or known by members as
Sasshi
. She currently owns an Ameba Burogu named
"指原クオリティー (Sashihara Quality)"
which is on the same server as fellow Team A member
Maeda Atsuko
and other AKB48 members such as
Oshima Yuko
.
This would be the link to her blog:
http://ameblo.jp/sashihara-rino
Ameba has a ranking function added to their site showing and weighing the popularity of Ameba Blog's owned by celebrities and people. The two other named members have received considerable popularity from fans and emerged as the top two in the AKB48 internal elections and their blog rankings are also considerably high on the charts with
Maeda Atsuko's
blog being ranked at the top frequently.
The Sashihara Project aimed to bring
Sashihara Rino's
blog to first placing in that Ameba Blog ranking. The road to achieve that goal was to have
Sashihara Rino
clock in 100 blog entries within a span of 24 hours. Prior to this project, the highest ranking she ever achieved was second and in the first place during that time was
Maeda Atsuko
.
Upon the initiation of this project on
04 December 2010
,
Sasshi
entered her first entry at
00:00 Japan time
and rounded up her day with her last entry at
23:55
. Each of her post had an average of 2000 comments bringing the total number of comments for her blog that day to a staggering 200000 comments. This brought her to the top of the charts landing her a place at the much coveted first place of Ameba Blog Ranking. She dethroned
Maeda Atsuko
and clinched the first place.
With that Sashihara Project has achieved its objective of bringing the blog to the top of the rankings. This much could not have been possible without the fans' support.