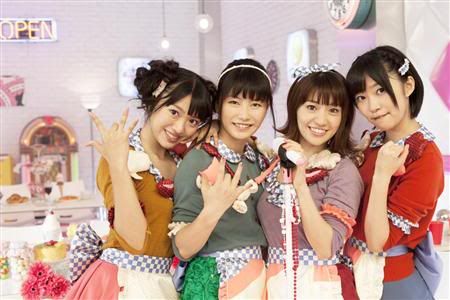 Not yet
's 3rd single has been announced, together with its title and some details.
The title for the single will be
Perapera Perao
. It will be a song about a guy that is really shy and wants to be able to speak fluently (
perapera
) with girls.
Some promo photos have been released and it seems the PV will be of the girls dressed as cafe waitresses and dancing with microphone stands, á la
Heavy Rotation
. From the photos it also looks like they are going for a retro theme.
With a title like
Perapera Perao
, expect something really catchy. I think it's a shame they decided to go for the microphone stands though, as it means their dances will be nowhere as energetic as
Shuumatsu Not Yet
or
Naminori Kakigoori
. The outfits also look kind of dowdy and it makes them all look older. May I take this chance to mention that I don't know what the heck they're trying to do with
Rie
's hair. Overall I'm not sure what to think but I do hope it will be a song as catchy as
Naminori
or as cool as
Warau ga Ii
.
The single will be released on
16th November 2011
, and comes in 3 types as usual, all costing 1600 yen.
The announcement seems to be quite late. With the release date in just slightly over a month, we should see covers revealed very soon.