Myao will be releasing her first Photobook, entitled [SHINING SKY] on
25 February 2010
. The DVD will be released one month later on
21 March 2010
. The title of the PB and the DVD was decided by the fans and picked by Myao herself. The release date is the same as Acchan's PB (below). The publisher TOKYO NEWS which is the same one as Yukirin's PB. Judging from the price it's probably a hardcover book. I am really excited about this. I have been waiting since I joined the AKB fandom for Myao to have her own PB and it finally came! This will also be the 1st Photobook I will be getting!!! Already preordered it and now waiting for the days to pass quickly.
Miyazaki Miho 1st Photobook [SHINING SKY]
Release date: 2010-02-25
Price: 2800 JPY
80 pages, size A4
Publisher: TOKYO NEWS
Miyazaki Miho 1st solo DVD [Miyazaki Miho no Tore Taka Juubun!!] (宮崎美穂のとれ高十分!!)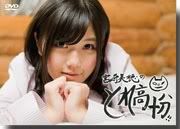 Release date: 2010-03-21
Price: 3990 JPY
Duration: 60 min
Publisher: HoriPro
Buy here:
http://pc.akb48-horipro.net/campaign/
Preview:
http://www.youtube.com/watch?v=uVTQe_FLoyk
Acchan will be releasing her 2nd Photobook, coincidentally titled [Acchan], on the
25 February 2010. That's the same release date for Myao's PB (above). The PB is shot in Hawaii. It's part 1 out of 3 PBs that she will be releasing. Judging from the price it's could either a mook (like Mizugi Surprise) or a softcover. But it's worth more than it's priced as you get a free bonus poster! This will be interesting because it will be split into 3 parts and each in a different country. Interesting because....*shudders at the thought....those of you remember Acchan's 1st PB should know....It was shot in Thailand remember....

poo and dead chicken
. I won't be getting this one however since I spent all my money on Myao's ;;.
Maeda Atsuko's 2nd Photobook [Acchan]
Release date: 2010/02/25
Price: 1200yen
Buy here:
http://www.hmv.co.jp/en/product/detail/3738388
http://www.cdjapan.co.jp/detailview.htm ... OBK-692451
http://shop.tsutaya.co.jp/book/product/9784087805550/
Includes special bonus "Oheya ni Acchan Poster" randomly selected from three kinds.
Part 1 - [Acchan] (あっちゃん) in Hawaii - release date: 2010/02/25
Part 2 - [Maeda Atsuko] (前田敦子) in Tokyo - release date: TBD
Part 3 - [ATSUKO] in NY - release date: TBD
Who will win in this war of pictures? My bet is on Acchan since she has more fans and all that. But Myao's looks kinda good too
.
Previews below
Miyazaki Miho no Tore Taka Juubun!! DVD preview
(Credits to Makistar, jafeijai, Lariemeeva, Yoshka, wil, LurkingAnonymous)