This one is different from the previous posts, Kayano is a graduated member who left AKB48 on 2007, long before I became a fan. So basically I don't know anything about her, other than I've seen her in a couple of early single PVs and a few concert performances and thats all. One of AKB's original members. Recommend reading to learn about some of the past of AKB.
Written by Sorceress628.
More after the jump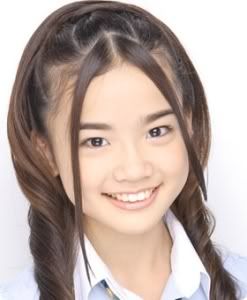 Graduated from:
Team A on November 30, 2007 (Himawari gumi 1st Stage)
Name:
増山加弥乃
Name (romaji):
Masuyama Kayano
Nicknames:
Kaya (かや)
Profession:
Actress and singer
Birthday:
February 10, 1994
Birthplace:
Saitama, Japan
Blood type:
A
Agency:
Parfit Production (
http://www.parfit.co.jp/artist/kayano/index.html
)
Known as the original chibi of Team A, Kayano also called Kaya or KayaP is a first generation member of AKB48. She joined at the age of 11 and in her first self-introduction, tap danced on stage. She's close to Team K's Ono Erena (they're in the same grade).
Kayano had to deal with a lot in her 2 years as a member of AKB48. Constant backdancing for Maeda Atsuko. Being pushed while she was on the stairs by Team K's Oku Manami and Sato Natsuki during AKB48's first concert normal version (look for it during the last chorus of Aitakatta). Being called a cockroach due to her hairstyle. Eventually she graduated at the end of Himawari gumi for reasons never announced but comes back every year for AX Top 100 concert.
So without further ado, let me introduce you to the awesomeness that is Kayano and why you should try to spot her every year at AX =D
Take a look at young Kayano.
There she is in the Sakura no Hanabiratachi outfit.
Another shot in rarely seen curly pigtails.
Now see if you can spot her now! (psst. Check for antennas)
Young Kayano is really young Kayano. Captain Takahashi Minami is taller than her. In fact, Kayano doesn't surpass Takamina (all of her 148.5cm glory) until A3.
So in A1, Kayano doesn't have a unit song (along with Nacchan and Miichan). During the shuffle day, she performed Hoshi no Ondo. In A2, Kayano gets to back dance for Acchan in the AKB48 song with the worse song distribution.
She still looks happy and genki though! A true idol. However she gets to semi-lead in Rio no Kakumei with Miichan, Acchan, Takamina and to a lesser extent Nacchan.
During this time, Fan Service Skirt Hikari song was released. Guess who stands in the center for the photo?
Being shortest and the youngest did have its advantages. Also note that her pigtails have disappeared for the high side ponytail but her antennas remain.
In A3 Kayano gets to back dance again (Nage Kiss de Uchi Otose)! Except she gets to sing something besides Cherry Cherry Boy/Girl. She also gets to be in the center for the last chorus of Tsuki No Katachi most likely because 1. she dances like nothing else (even next to Miichan), 2. while they were rehearsing and working out the choreography, Kayano was still the shortest in the group. She hit her growth spurt during A3 and leaves poor Takamina behind. In a later interview, Kayano reveals that she grew 15 cm during her time in AKB48.
I like her A3 hairstyle the best. The thin antennas, the elaborate braid, the rest of her hair left down.
It works very well especially in AKB48 first major concert.
Doesn't she look tall(er)?
Can you spot the height difference between her and Takamina?
For the first time Kayano gets chosen for a single! Except its not really an AKB48 single. Its for a kid's song. And involves a tutu. And a fat skeleton.
Kayano is the only person out of the 4 who can actually perform all the song moves. There is a reason why the camera is never on Manami or Erepyon during the difficult forward body snake. More evidence of Kayano's great skills come during her unit shuffle in the first concert when she was the monkey in Ame no Doubutsuen. Her leg kicks are almost perfectly perpendicular to the floor.
Now in A4, she gets to sing next to Acchan in her unit song. Sometimes. The rest of the time she's backdancing. Now we almost lost Kayano to the newly formed team B. Watanabe Shiho, Urano Kazumi, Hirajima Natsumi, and Kayano were all supposed to move to the new team B but Orii Ayumi graduated so Kayano stayed in team A.
An A4 Kayano that we may have never seen.
So in H1, Kayano is part of the 2nd team and shares her lines with Team K's genking Sae. She gets a nice long part in one of my favorite songs, Yuuhi wo Miteiruka, back dances for her best friend Erepyon, and adopts Erepyon's signature "pyon pyon" hairstyle + antennas. However Akimoto-sensei screwed up big time when assigning unit songs because you do not throw a 13 year old girl into Itoshisa no Defense which is H1's sexy song. Her solo line in Lay Down consists of "or do you want this body?" Good job Aki-P.
She still looks young and cute though!
H1 is also where Kayano says goodbye to AKB48.
Her graduation flowers from the fans.
But that doesn't mean that we say goodbye to Kayano!
Kayano was signed onto to Parfit Production and was in her first-ever drama ChocoMimi during H1. In fact, she was often busy with filming.
So even if Akimoto-sensei won't push her doesn't mean that Kayano won't make it to the top. (Oh dear that was a double negative)
And then a stage play. Kayano has been in the entertainment business before joining AKB48 and already had stage experience and even sung the original CM song Tarako Tarako Tarako. So donning a blond wig and pretending to be a witch named Sally wasn't unusual for her.
A screencap from the prime time award winning drama Maou in which Kayano gets about a minute of screen time. But hey, she plays the young version of the lead actress. That's gotta count for something right?
Then Aishuu no Romera. Which Kayano plays the young version of the lead actress. For 10 episodes at least. Except in this one Kayano gets kissed, sexually attacked, verbally harassed, and then thrown into prison. Pretty big jump from the sugar coated ChocoMimi.
Her next role is a guest star for two episodes in Uramiya Honpo Reboot. Meaning that she's really really evil in this one. And then gets carried off by strange men.
Finally onto something less morbid, she gets a role in Shokojo Seira (a modern Japanese remake of A Little Princess).
She's also got a few CMs under her belt, currently in a musical "The Music Man" and will be in NHK's cell phone drama Geki Koi.
Not too shabby. Especially for someone stuck back dancing most of the time. And never once got senbatsu for a single.
So as I run out of things to gush about, Kayano picspam to end this guest post!
Kayano during Skirt Hikari PV filming
The lolitas in their Bingo outfits.
A more mature Kayano. As in she's 15.
Kayano at her high school entrance ceremony. She's growing up!
Please look for Kayano goodness at Shibuya AX and feel free to drop into the Kayano thread at stage48 forums. It gets lonely sometimes. Thank you Melos for having me!