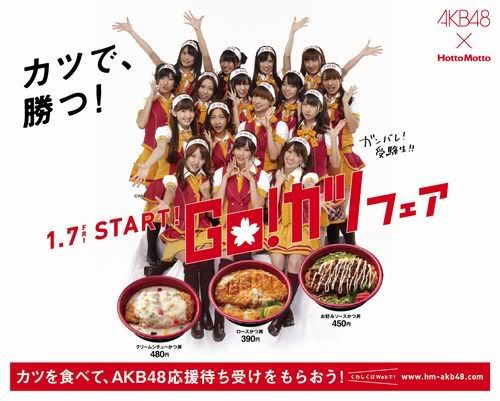 「GO!カツフェア」or [Go! Katsu fair] enlisted AKB48 members' help to start a new image campaign titled Hottomotto. The image created by the uniform donned by the members portrays an image of people supporting those who are taking the examinations or supporting those who are working hard towards their dreams.
From
January 1st 2011
, on air in the whole of Japan would be their CM. It would portray HottoMotto's bento getting consumed in places like the Television Station, concert venues etcetera by the girls mainly. There would be three versions of this CM: the [Go! Katsu fair] Version, the 「クリームシチューかつ丼」or [Cream Stew Katsudon] Version、「お好みソースかつ丼」or [Osukimi Sauce Katsudon] Version. The CMs would portray the members enjoying the food with each other.
What fans would look forward to most should be the special encouragement messages from the members. After purchasing the promoted food items, the customers would receive a download card to download encouragement messages. Upon scanning the QR code, they would receive 2 kinds (out of 32) of the special AKB48xHottoMotto mobile encouragement charm.
official AKB48xhottomotto website: http://www.hm-akb48.com/
Operational from
January 7 2011