On 8th December 2010,
AKB48
celebrated its 5th Anniversary with a special theater performance that day at the AKB48 Theater in Akihabara.
48 members within the three teams alongside with the kenkyuuseis and a number of the graduated members allowed for 82 of them to gather at that theater together.
The opening song was sung by the original Team A when they debuted in 2005 8th December and it was Party ga Hajimaruyo!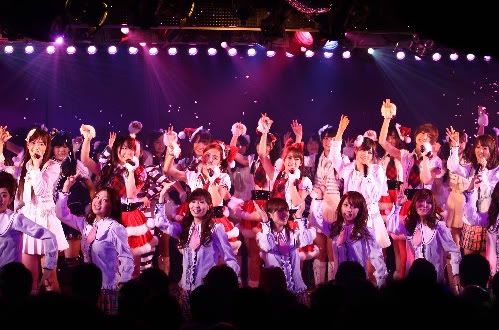 SETLIST (taken of stage48, Credits to Jasey from Stage48)
1. (From A1) Party ga Hajimaruyo (Itano Tomomi, Urano Kazumi, Orii Ayumi, Kawasaki Nozomi, Kojima Haruna, Komatani Hitomi, Sato Yukari, Takahashi Minami, Tojima Hana, Narita Risa, Hirajima Natsumi, Hoshino Michiru, Maeda Atsuko, Minegishi Minami, Watanabe Shiho)
2. (From K2) Seishun Girls (Akimoto Sayaka, Kobayashi Kana, Umeda Ayaka, Oshima Yuko, Miyazawa Sae, Masuda Yuka, Oku Manami, Ohori Megumi, Takada Ayana, Kasai Tomomi, Matsubara Natsumi, Hayano Kaoru, Sato Natsuki, Imai Yu, Noro Kayo)
3. (From B3) Shonichi (Oota Aika, Kashiwagi Yuki, Kikuchi Ayaka, Watanabe Mayu, Nakaya Sayaka, Kohara Haruka, Hirajima Natsumi, Katayama Haruka, Matsuoka Yuki, Nito Moeno, Tanabe Miku, Saeki Mika, Yonezawa Rumi, Urano Kazumi, Saotome Miki)
4. Anata ga Itekureta Kara
----------------------
5. Fruits Snow (Team Kenkyuusei)
6. Love Jump (Team B)
7. ALIVE (Team K)
8. Kurumi to Dialogue (Team A)
9. Yoyakushita Christmas (Original Senbatsu)
10. Chance no Junban (Chance Senbatsu)
11. Sakura no Hanabiratachi
----------------------
At this anniversary performance, it was formally announced that the Ninth Generation Members who were Kenkyuuseis are all promoted. Their teams however are still undecided.
The Ninth Generation Kenkyuuseis who were promoted are :
Oba Mina (大場美奈)
Shimazaki Haruka (島崎遥香)
Shimada Haruka (島田晴香)
Takeuchi Miyu (竹内美宥)
Nagao Mariya (永尾まりや)
Nakamura Mariko (中村麻里子)
Mori Anna (森杏奈)
Yamauchi Suzuran (山内鈴蘭)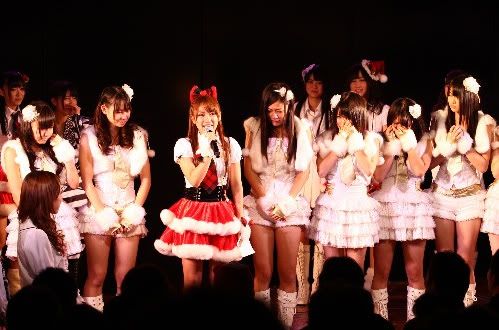 As to what team these promoted Ninth Generation members are in, it is still a mystery. 8 Members have been promoted at once... bringing the grand total of AKB48 members to 56...
Things could possibly go like this:
1. a possible New team (team 4 lols)
or
2. graduations
or
3. Members from AKB48 transferred to
SDN48
or
NMB48
If there is a new team, AKB48 will no longer have 48 members but have 56 members... so probably they might end up rebranding.
If there are graduations, everyone will be sad. The most recent graduation was Ono Erena, a popular and much-loved member. Supposing there be graduations, fans might lose their oshimens to more of such graduations. Nothing much could be said about this graduation thing as of now.
If there are members transferred to
SDN48
or
NMB48
to help develop the group well that means they are still in the industry so it couldnt be that bad.
credits for photos used in this post: http://www5.nikkansports.com/entertainment/akb48/photo/